Cigars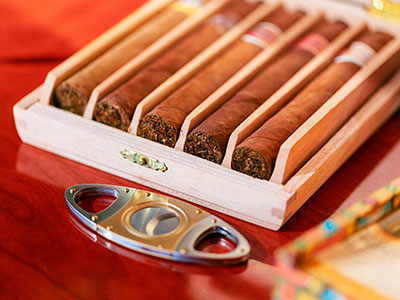 At Alaia's Cafe & Cigar Shoppe, we carry an endless collection of premium and boutique cigars for aficionados in Pensacola, FL. You will find a world of name brands and tastes to choose from and enjoy. We are located at 4730 N. Davis Hwy to assist you with your unique experience. A full humidor is offered, featuring a curated selection of all the favorite brands with an emphasis on sourcing the best from all over the world.

As Pensacola's premier cigar and coffee shop and lounge, we offer a great variety of boutique and well-known products and brands. Our guests enjoy news, sports, and music in an environment that creates the perfect vibe to make everyone feel happy. We welcome everyone to join us and explore our cigars, coffees, and upcoming events.


Our Cigar Collection
Our collection of cigars is second to none. You can explore and enjoy a wide selection of premium cigars and cigarillos with us. Our qualified, experienced, and professional staff can suggest a cigar that's perfect for your taste. We will properly cut and light the cigar of your choice. From the biggest brands to new boutiques, we are always working to bring our guests all the favorite brands and the latest and limited releases.

Here you can check out all our regular and special cigars:


New World
Last Call
Black Market
Prensado
Montecristo
Romeo and Julieta
Vega
Fina
Aging Room
Casa Garcia
Odysee
Aroma de Cuba
Ashton
JFR Cigars
Colibri Lighters and Cutters
Acid
Larutan
Liga Privada
Gloria Cubana
Partagas
Macanudo. Montecristo
Punch
CAO
Arturo Fuente
Trader Jacks
Factory
Throwouts
Quorum
Tatascan
Rancho Luna
Aladino
Vector Lighters
Tatiana Cigars
Djarum Little Cigar
CLE
Asylum

Our collection of cigars consists of everything including mild, medium, and full-body cigars. Most of the brands we carry are handmade with leaf filling and flavor, all hand-crafted by hand. At Alaia's Cafe & Cigar Shoppe, we take pride in offering the finest brands of cigars to create a pleasurable and special smoking experience. Our collection features blends of different flavors and strengths at an amazing price point.




Taking the Experience to the Next Level
We aren't just the best smoke shop or the best coffee shop in the region. We offer a pleasant and delicious fusion of your favorite flavors and various activities. When at Alaia's, you can also enjoy your favorite Latin food/cuisine and Spanish food. The concept is simple yet unique. You love smoking. You love coffee. We allow you to combine both. We offer the highest quality tobacco experience while serving you your favorite cup of joe. We also offer Water bongs, Alfajores, Yerba, Latin food/cuisine, Spanish food, and Empanadas to enhance the cozy experience.

At Alaia's, customer satisfaction is our top priority. Therefore, we carry all forms of accessories to enhance your smoking experience. We offer affordable pricing on our products and are always adding new selections to enhance your experience.

For more information about our cigar offerings, feel free to contact Alaia's Cafe & Cigar Shoppe at 850-607-2220.
We Provide Services to the Following Cities,
Towns and Surrounding Regions of FL